500 Extra Points with Avis using your SAS Eurobonus Mastercard
Collect 1,000 Extra EuroBonus points every time you rent with Avis.
All you have to do is pay for your Avis rental using you SAS EuroBonus Mastercard/Mastercard Premium and the Extra points will automatically be added to your account once the rental has taken place.
*Please see Terms and Conditions below for Participating cards.
Avis will award the 500 Extra EuroBonus Points in addition standard EuroBonus Extra points customers receive when renting with Avis.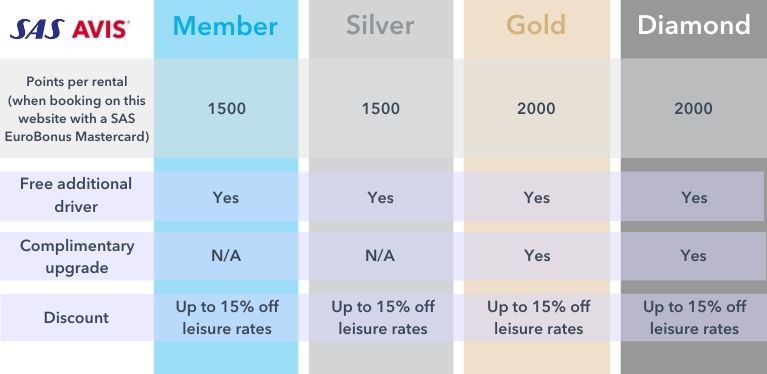 Not a SAS EuroBonus World Mastercard holder?
Sign up today and start collecting even more EuroBonus Extra Points.
Sign up
Qualifying rentals must either be pre-paid using a participating SAS EuroBonus Mastercard finance card (www.avisworld.com/eurobonus) or if a pay-later reservation has been made, the rental must be paid for at the rental location when the car is returned using a participating SAS EuroBonus Mastercard.
Bookings made using your SAS EuroBonus Mastercard via any other Avis channel will only be eilgable to receive 1,000 Extra Points (500 Extra points + 500 base points per rental).
Participating cards (list correct as at March 2020):
SAS EuroBonus World Mastercard
SAS EuroBonus World Mastercard Premium
Only payment for rentals will qualify for the bonus. Separate payment for non-rental items such as ancillaries, damages, fines will not qualify for the EuroBonus Extra Points.
If the rental value is subsequently refunded by the SAS EuroBonus Mastercard, the 500 Extra Pointa will be debited from the EuroBonus member's account.
Standard partnership terms and conditions apply, please click here to view.
Return Home